Offset and Web offset printers, and Box Manufacturers.
Paper Roll Making Machine
Products
Machines
Paper Roll Making Machine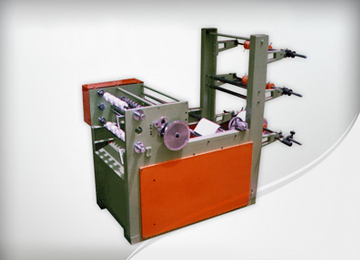 Unique Features
Optional Facilities (On Extra Cost)
:
On Line Text Printing & Unwinding Stand to produce 2 & 3 Ply Rolls
Roll Sizes
:
25mm to 250mm dia X 36mm to 210mm width Rolls at a speed of 150 Adding Rolls & 50 Fax Rolls per hour
Rewind System
:
Rewind device is of robust construction for holding 1" and 1/2" Inner dia cores at two different positions for 2 up operation.
Auto Stop System
:
Equipped with Preset Length Electronic Counter Meter to Stop the Machine automatically at preset length
Electrical
:
2 H.P D.C. Motor with rectifier Control Panel working on Single Phase, 220V, 50 Cycles AC Supply.